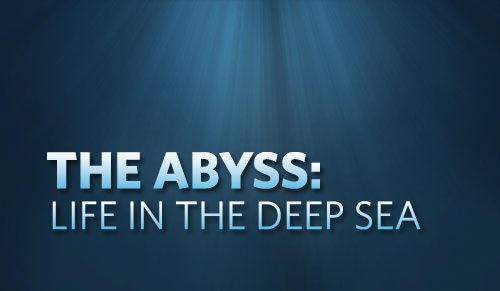 Visitors discovered a unique, strange world that is home to corals, a variety of creatures straight out of science fiction, unique ecosystems and hot springs. Spectacular images, audiovisuals, interactive animation, specimens and replicas of deep-sea diving apparatuses complete this fascinating exploration of the mysterious abyss.
The history of deep-sea exploration, scientific discovery and technology unfolds through vivid panel texts. We learn that as early as 1690 a "diving bell" enabled five brave men to venture 18 metres down into the River Thames for one hour. We also learn that by 1948, humans were capable of diving 4000 metres deep into the ocean using a dirigible-like contraption called a bathyscaphe. By 1960, humans had succeeded in reaching the deepest known part of the ocean, the Mariana Trench, at close to 11 000 metres.
The Abyss: Life in the Deep Sea debuted at the Musée du fjord in La Baie, Quebec, in June 2008 and is now touring across Canada. It was produced by the Musée du fjord with funding from the Canadian Heritage Museum Assistance Program and support from the presenter, DeepOcean Quest. It is the first bilingual travelling exhibition on abysses in Canada.