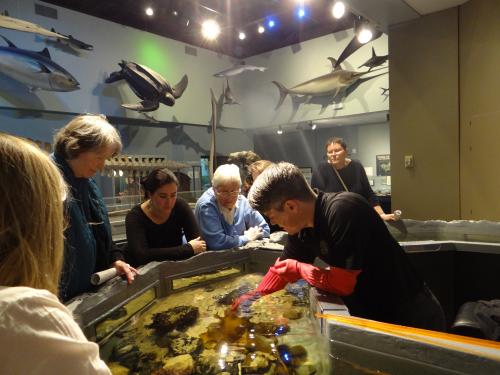 The Museum of Natural History depends on our volunteers. Education programs, gallery programs and special events are only possible with the help of volunteers. If you are looking for museum experience, teaching opportunities, or interaction with people, then join our team of volunteers!
Position: School Program Instructor
Team: Interpretation
Works with: Elementary students
Primary responsibilities:
Set up, delivery, and take down of educational programs for elementary students.
Work as part of a team with Museum staff and other volunteers.
Learn about Nova Scotia's natural history and/or cultural heritage and share that knowledge with students and chaperones.
Lead small groups of students through program activities.
Desired skills/qualifications:
Experience working with elementary age students (5 – 12 years old).
Willingness to learn and engage with others.
Able to work as part of a team.
Friendly and interested in Nova Scotia's natural and cultural history.  
Training:
Orientation and training provided by museum staff. New volunteers shadow staff/experienced volunteers before teaching independently.
Commitment:
School Program Instructors commit to a 9:00am – 12:00pm shift, one set day per week. Currently, on Thursday mornings are available.
A minimum 3-month commitment is required.
Benefits volunteering:
Gain experience working in public speaking and museum interpretation.
Opportunities to learn more about Nova Scotia's natural and cultural history.
Invitations to exhibition openings, special lectures, and activities.
How do you apply?
For more information and to request a volunteer application, please email mnhvolunteers@novascotia.ca