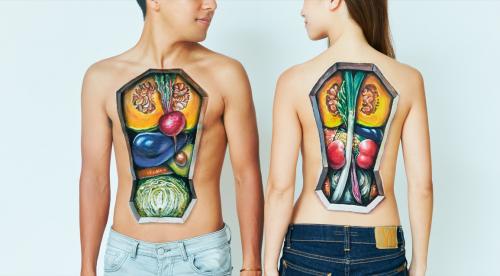 A new innovative exhibit, merging science and art, now on view at the Museum of Natural History and runs until October 2. 
The Robert Pope Foundation's Centre By The Sea is proud to bring Soil Body, a new, innovative exhibit, to the Museum of Natural History. Soil Body is a hands-on learning experience that incorporates science and art to help us understand the essential, and hidden, links between us and the natural world.
Featuring artwork from nine local and international artists, Soil Body tells the story of life-giving systems inside and around us. The works range from fabric art, to ceramics, 3-D printed sculptures, to paintings, photos and even a film. Artists in the exhibition include Teresa Bergen, Elise Campbell, Hikaru Cho, Kate Church, Miyoshi Kondo, Sue LeBlanc, Alex Livingston, Kim Morgan, and Echo Nara.  
Curators Doug Pope and Sue LeBlanc say they challenged artists to respond to a science-based theme that caters to a wide range of ages.   
"There is so much talk of the environment in the news these days, but what is often overlooked is that soil and body are environments also, demanding the same care and attention as rainforests, glaciers and wetlands," says Doug Pope, President of the Robert Pope Foundation. "We wanted to make an unusual comparison to get people thinking about how we connect to the life and land that's all around us." 
Sue LeBlanc, a community activist, and arts organizer adds, "The title itself, 'soil' and 'body', initially creates two very specific images in one's mind, the ground beneath our feet and the bodies we inhabit. This exhibit steps across rigid boundaries and takes you within, and beneath, to see systems and habitats sharing resources and materials to live. Through images and text, we invite the viewer to discover connections of their own." 
Soil Body is sponsored by the Robert Pope Foundation, a charity established in memory of artist Robert Pope, who is best known for his series of paintings Illness and Healing. The project was initially conceived in collaboration with the late Peter Cullen, historian, university professor, and Director of the Ross Farm Museum, and is dedicated to his memory.