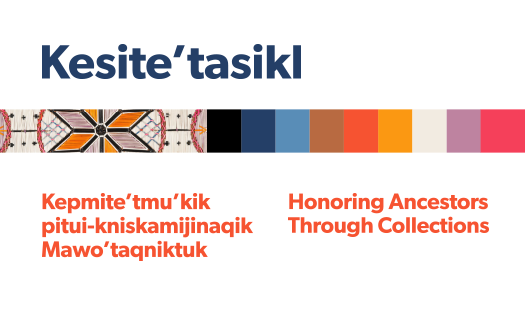 On view until November 13
Kesite'tasikl: Kepmite'tmu'kik pitui-kniskamijinaqik Mawo'taqniktuk
Kesite'tasikl, teluek "they are cherished," iknmuksi'kw kijka nmitunew ta'n tel milamu'kl mawo'taqnn etekl No'pa Sko'sia'wey Mawo'taqno'kuom aqq elt mimajuinu'k ta'n kekkunmi'titil. Koqoey wjit mawo'taqiti'kw? Pukweli kinua'teketew wen ta'n koqoey wjit kutey nike ta'n te'sijik mawo'tasultijik. E'tasiw na koqoey kekkunk piltue'k aknutmaqn, kutey nike' e'tasiw mimajuinu elt kekkunk aknutmaqn.
Pukwelkl "koqoe'l" kekkunmi'tij mimajuaqn, kutey kinu. Kisitasikl, kisiku'aql, aqq kaqiaql. Katu, eykl koqoe'l iapjiw mimajital. Kijka'ji'jk, telo'tm kisi wiaqa'lsultitisnu ula koqoe'l. Mawo'tasulti'kw nenuite'tmu'kw, aqq muiuatmu'kw, meko'tite'tmu'k wejkwa'taqnikewey, aqq we'tuo'tmu'kw mimajuinuey ta'n te'sik koqoey.
Kesite'tasikl: Honoring Ancestors Through Collections
Kesite'tasikl, meaning 'they are cherished,' offers a glimpse into the varied collections of the Nova Scotia Museum and private citizens. Why do we collect? There are almost as many answers to this question as collectors. Every object has a unique story, just as each person has theirs. 
Many "things" have a life, like us. They are created, age, and wear away. However, some things can live forever. In some small way, we feel we can tie a part of ourselves to these things. Through collecting, we show our gratitude, and appreciation, value history, and sense the humanity in each object.