Here Be Dragons
Coming soon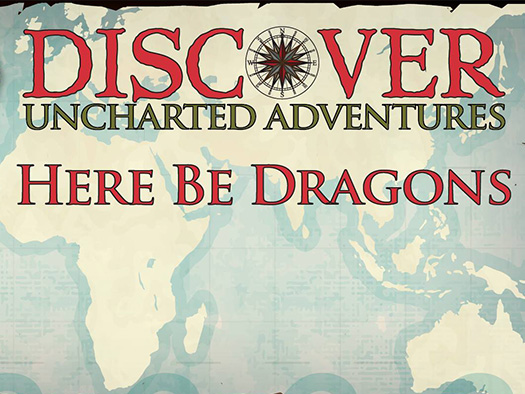 Map-makers mark the unknown with a giant serpent and the words, "Here Be Dragons". The unknown becomes the known in this exhibition - because the Dragons are now here...
Here Be Dragons explores the myth of dragons through culture, literature, folklore, religion, paleontology, history, science, and live animals.
Their allure is mythic, but they are real and are traced to serpents, dinosaurs, reptiles, and birds. Here Be Dragons exhibit is designed to delight, engage, and inspire young and old alike by making connections between living, breathing dragons and those of fanciful folklore, literature, mythology, and legend. Through interactive exhibits and immersive environments, these approachable creatures will spark creativity and imagination while serving as an informal learning environment for the husbandry and conservation of all types of dragons and related species. 
A variety of species from around the world are included in this comprehensive exhibit. The history and folklore of cultures—medieval, Asian, and ancient—are represented and fully explored alongside the animals providing context for the exhibition.
A variety of hands-on interactives enhance the experience. Included are opportunities for visitors to engage in a dragon encounter. Trained keepers will bring the nuances of the species to life with amazing facts and lively tales. Guests learn about what dragons eat, how they survive in the wild, their natural predators and challenges to their survival, and how –as individuals and families--they can play a vital part in preserving dragons and their habitats. 
Visitors investigate dragon history across Europe, Asia, and North America. They view and can touch dragon-like fossils, birds, snakes, and giant lizards. Open-ended question cards –available throughout the exhibit--will ensure dialogue among children and their adult guides, allowing all to draw their own conclusions and connections