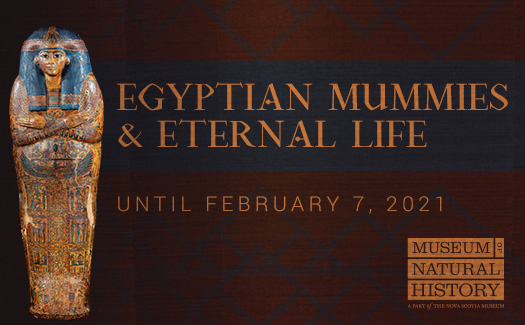 We are happy to welcome you back to the Museum of Natural History.  We have been working to create a safe experience for you and our staff.  Check out our "Know before you go" guide to help prepare you for your visit.
Extended until February 7, 2021
Egyptian Mummies and Eternal Life makes its North American debut at the Museum of Natural History this February. In collaboration with the noted Museo Egizio of Florence, Italy, this exhibition features more than 100 exceptional original artifacts and exemplars, including mummies, painted sarcophagi, funeral trousseau and votive objects that evoke the mythical, mysterious landscape of the tombs and pyramids of ancient Egypt.  
In ancient Egypt, death was not considered the end of life but a time of passing from one form of life to another, that continued in the eternal afterlife. The soul had to be prepared for this journey into immortality, to be reincarnated in its own body, which had to be preserved forever. This necessity led to the search for sophisticated methods of embalmment practiced by the ancient Egyptians from the very first dynasties of their millenniums of history. It also led to the placement of rich and varied funeral trousseaus in tombs in the belief that the soul of the deceased must be supplied with everything it might need to continue living in the afterlife.   
Certain peculiarities of the funeral practices, particularly the process of mummification are at the center of Egyptian Mummies and Eternal Life. A topic that has long fascinated both experts and the general public from ancient times until today, as demonstrated by popular culture. The exhibition also offers clear explanations of misconceptions that all the funeral rituals, even the most macabre, did not serve to simply preserve the body of the deceased, but rather to insure the continuation of life beyond the grave.  
Tickets
| | |
| --- | --- |
| Admissions | Museum |
| Adult | $8.30 |
| Youth (6-17) | $6.05 |
| Child (5 and under) | Free |
| Senior | $7.70 |
| Student (with ID) | $7.25 |
| Family A (2 adults and children under 17) | + $2 per (6 and over) |
| Family B (1 adult and children under 17) | + $2 per (6 and over) |
| MNH annual pass holder | + $2 per (6 and over) |
| NSM annual pass holder | + $2 per (6 and over) |
Social Narrative
New Egyptian Mummies and Eternal Life Social Narrative (PDF)